Regular price
$829.00 AUD
Regular price
Sale price
$829.00 AUD
Unit price
per
Sale
Sold out
Curious about grading? Check here!

Open Box

Spotless device in brand new condition without any scratches comes with all original accessories.

Like New

Cosmetically almost new in appearance. May rarely have micro marks or scratches difficult to see from a normal viewing distance. with 12 months warranty.

Grade A

Cosmetically in top-notch condition with very slight wear and tear. May have some light scratches on the screen or housing. with 12 months warranty.

Grade B

Noticeable wear & tear. There may be a number of marks/scratches on the screen, slight screen discoloration, or housing but these devices are 100% functional and offer exceptional value. with 6 months warranty.

Grade C

Obvious wear & tear. May show a considerable amount of scratching on the screen and dents around the edges, Face-ID may be disabled but are 100% functional and offer the best value for money. with 6 months warranty.

Explore moreSee details
Refund & Warranty Terms

We care about our customers and offer 14 Days free change of mind in case customer is not happy with the purchase.
Devices are covered for warranty only, if its return in original purchase condition including all the accessories it came with. Original condition means, no physical damage, no water damage, no sign of misuse, all personal details must be removed, including, iCloud, Google account, Samsung account or any other.   
We strongly encourage our customers to back up all the data before returning device. We will not be responsible for any loss of data during replacement.
If devices were sent damaged or there were signs of misuse we will grant no refund and device will be sent back to customer.
Change of mind return policy is only offered for 'A grade', 'Like New Grade', and 'Open Box' products. All B-Grade and C-Grade and 2 years older phones from release date are exempted from change of mind return.
All AfterPay, Latitute Pay, Zippay and Credit Card purchases will incur 5% restocking fees for refund.
We offer warranty for your purchased products. In case the product is deemed irreparable, we will replace your product within a reasonable time frame that's is 15 business days. If we are unable to repair your product within a reasonable time frame, we will offer a Store credit or replacement only.
All mobile phones come with a warranty unless stated otherwise, whereas for the battery since it is a wear and tear item we provide only 30 days warranty. Any physical damage or water damage or any 3rd party repair will not be covered under the warranty. If the device is not returned in the same condition as it was sold, the warranty may be void.
Unlocked

Delivered from Melbourne

Warranty & Tax Invoice
Google Pixel 7 Pro: Experience Advance Technology
Google Pixel 7 Pro, the latest tech gear, available for our customers. You'll love technology even more with this incredible device. The Google Pixel 7 Pro is a really cool device with lots of great features, upgraded technology, and a stylish design that will make it look different from any other device you've had before. The Google Pixel 7 Pro is a really advanced phone with great hardware and software. It's perfect for people who want the best mobile experience. If you want a really good device that will change how you use technology, check out the Google Pixel 7 Pro from Roobotech. It is perfect for students, working professionals, or anyone who wants a dependable phone.
Latest Updates and Innovations of Google Pixel 7 Pro:
Better cameras.

New and improved Tensor G2 chip that is faster.

Fixing bugs.

Security has been improved for five years.

Additional zoom features.

Make videos look blurry and cinematic.

Big picture.

Get a free VPN with Google One.
The Pixel 7 Pro's Features
1) Design
The design of the Pixel 7 Pro is both stylish and eco-friendly. Unlike its predecessor, the camera strip on the back of the phone is made exclusively of recycled aluminum. The design has been improved while maintaining its similarity. Moreover, the back is of glass with curved front sides. You will enjoy the phone's tactile feel and waterproof feature. Among its other impressive features is an IP68 rating, making it water and dust-resistant. The phone is still great, but the changes are less drastic than between Pixel 5 and Pixel 6. 
2) Display
The Pixel 7 Pro has a big 6.7-inch screen with a high resolution of 3120x1440 pixels, which makes the display look really good. The colors are bright and realistic, and the screen size is perfect for enjoying all your favorite content without any discomfort.
3) Camera
The camera on the Pixel 7 Pro is really good. It has a 50-megapixel main camera that takes amazing photos with great colors and details. The camera can now zoom in 5 times, which is better than the previous 4 times. Even a tiny change can impact how Zoom zooms. The zoom lens lets you take pictures from far away, and the wide lens helps you capture more in your photos. 
4) Performance 
The Pixel 7 Pro uses the Tensor chip, which is Google's processor. That makes the device fast and dependable. The phone uses the newest Android 13 operating system, which is easy to use and navigate. 
5) Battery Life 
The battery life of the Pixel 7 Pro could be improved, but it can last a whole day with regular use. During our testing, we found that the Pixel 7 Pro lasted a whole day for voice calls, around 12 and a half hours for Wi-Fi web browsing, and approximately 17 hours for video playback.
The Google Pixel 7 Pro, which has been updated and improved, is a really good phone that gives you a lot for your money. But if you already have a Pixel 6, you don't have to get a new phone every year. Google plans to focus on making smaller improvements to the Pixel 7 Pro instead of making big changes. The phone has gotten much better in different ways. The cameras got better, new things were added, and the design looked nicer. 
At Roobotech, we make sure that the refurbished devices we offer are of high quality. They will look and function just like new ones. Plus, we care about the environment and sustainability. Buy the refurbished Google Pixel 7 Pro now and enjoy great service for many years.
Major Advantages of Getting Google 7 Pro 
The major advantage of Google Pixel 7 Pro is its high-end camera. It offers a reliable camera experience for all uses and features. You can capture great photos and videos of loved ones with its camera's accurate skin tones and natural contrasts in any lighting. It also has a really good autofocus for photos and videos. It can quickly focus on moving subjects and capture the moment accurately. It also does a great job of tracking faces in videos.
Moreover, the Zoom function works great, capturing clear details at all distances. It takes amazing selfies and videos with realistic skin tones, perfect exposure, and impressive range, even in challenging situations. 7 Pro's front and back cameras have good video stabilization. It also has a good range of focus, so it works well for all kinds of selfies, including big groups.
The display is also great for watching HDR10 videos with the right brightness. The display has great color quality and adjusts well to different lighting. This device is great for playing and recording various things. The audio-zoom feature is well-managed. Lasts a long time when watching videos. 
Major Disadvantages of Getting Google 7 Pro 
The Google 7 Pro has several disadvantages. Videos taken with the main camera might look too dark in low-light conditions. Also, when you zoom in really close, you notice that some details are not as clear, and there might be some extra texture in the image. If you use the front camera up close, faces might look blurry. 
Additionally, when it's dark, there might be some grainy spots in the pictures, and the screen might not get bright enough outside, making it harder to read. The wind noise is too loud, and the charging experience, especially when using wireless mode, is not good. The new models are similar to the old ones, but the battery only lasts for a short time. Also, the device gets hot fast, which might worry some people.
View full details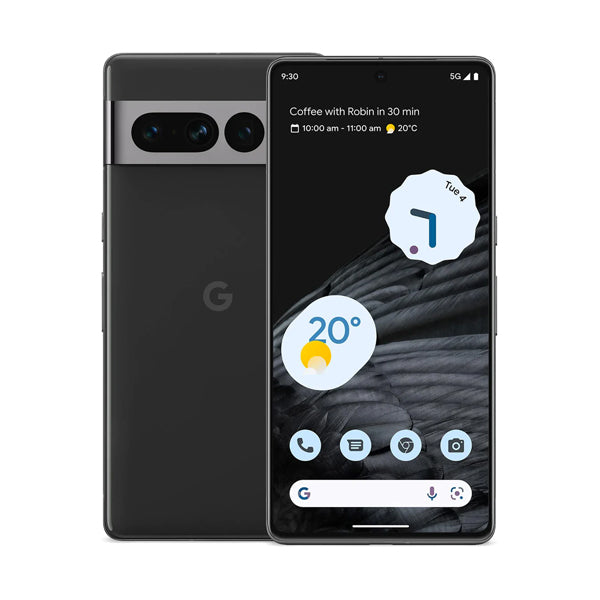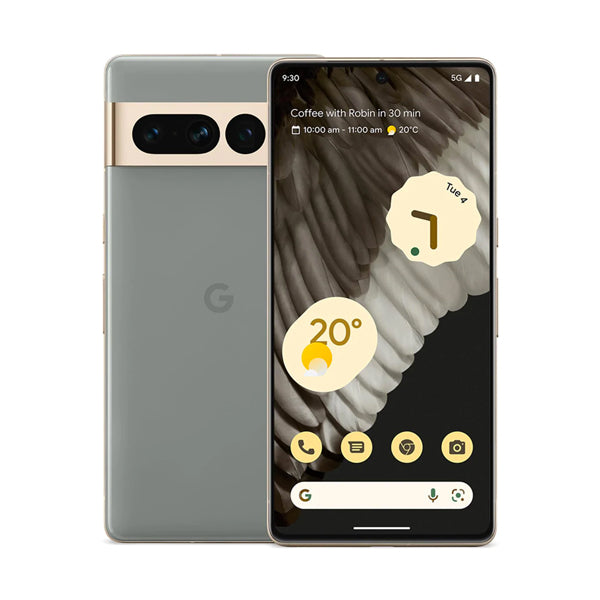 Shipping & Returns
AUSTRALIA POST

DELIVERY SCHEDULE

2-4 days after dispatch
1-2 days after dispatch
1-2 days after dispatch

COST PER SHIPMENT

Standard Postage (free on minimum order of $100)
Express Postage - without signature ($15)
Express Postage - Signature on Delivery ($20)

SENDLE PARCEL DELIVERY

DELIVERY SCHEDULE

1-2 days after dispatch
2-3 days after dispatch

COST PER SHIPMENT

Standard Postage Signature On Delivery ($10)
Express Postage Signature On Delivery ($18)

SHIPPING SCHEDULE

All orders placed on weekend or friday including  Public holidays will be dispatched next business day or Monday.
Regional area delivery may take upto 7 Business Days. 

RETURNS

A customer is entitled to a full refund if a product is deemed faulty within 30 days of purchase. If the product is deemed faulty after the 30-day period, the customer is entitled to replacement or repair only. Refunds after the 30-day period will be issued on Robotech's decision only if repair or replacement is not possible. Roobotech will cover the return postage if and only if the product is found to be faulty and under warranty. Restocking fees of $25 will apply in case of a change of mind or an order by mistake.